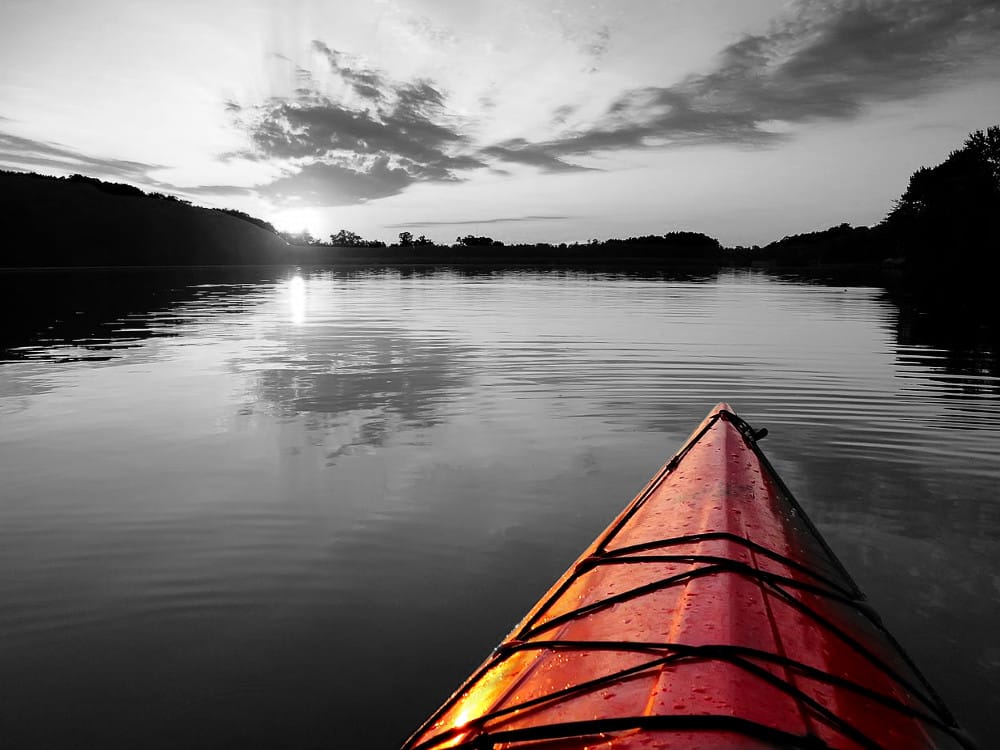 Epic Endurance
Paddling after Lewis and Clark
I was waiting on the kerb outside a hotel in Kansas City. It was just before dawn and the great city at the confluence of the Kansas and Missouri rivers, once of critical importance to America's westward expansion, was quiet. At every breath the dark around me tasted hot and humid, almost tropical. I suddenly felt very badly equipped for the expedition that lay ahead.
A few months earlier I had been put in touch with Kelly, a paediatric nurse and Jackson County kayaking champion. My objective was to experience the Missouri River as it might have been perceived in the first weeks of June 1804, when Meriwether Lewis and William Clark passed through, paddling upstream on their mission to reach the Pacific Ocean. Kelly knew the river better than anyone else, and did not seem perturbed by my plans. 'We'll put you in an Epic Endurance kayak, and set you loose', she proposed.
In 1803 President Jefferson had bought the enormous Louisiana territory (the 828,000 square miles west of the Mississippi and east of the Rockies) from Napoleon, who was facing another war with the United Kingdom. In order to demarcate the borders of his great acquisition, Jefferson sent out a 'Corps of Discovery', including young US Army volunteers and French boatmen, under the leadership of Lewis and Clark. Their extensive instructions included recording anything of natural and cultural interest along the way, but the core of the brief was to find 'the most direct & practicable water communication across this continent, for the purposes of commerce.' Such a navigable route, if it existed, would revolutionise America's trading power and stake a claim to the contested and uncharted areas west of the Rockies.
This river journey, indeed the river itself, forms the backdrop to a story I have been pursuing for a few years now. The Missouri River, feeding new life to the American West – and, I hoped, to the novel that was beginning to sieve through the silt of my mind – was the objective of my own expedition. What was I hoping to find on the river? I had set one of my previous novels on an island, a naturally demarcated stage on which I directed my characters. A river, I reasoned, might provide, quite literally, a narrative course.
I trained as a landscape archaeologist, which meant, supposedly, that I learned to 'read the landscape'. To me, this 'reading' simply manifested itself as an ability to understand the layers of meaning in a place, by recognising elements that would let me interpret its historical and cultural stratigraphy. Lately, however, I have come to realise that what I was doing as an archaeologist was not reading the landscape but writing it. I was re-arranging those elements of time and space in order to create a fiction.
That morning, last September, Kelly picked me up in her truck and drove east through the opening light. After corresponding about our trip with the breathless enthusiasm of two strangers trying to reassure each other that it's all going to be fine, meeting face to face made us suddenly shy and tongue-tied. Kelly was a strong-looking woman with a kind face. She wore a long-sleeved Lycra top advertising one of the many kayak races she had won. I tried to picture her as a nurse, but failed. Her strength seemed more natural than nurturing.
Every now and again, the headlights of the truck would pick out gleaming, amber-coloured dots on the highway. 'Racoons.' she said. 'They freeze in the headlights.' I nodded, pleased that we had at last been presented with a topic for conversation. 'I killed a whole family once,' she continued. 'Two adults and three kids.'
'A nuclear family?' I asked.
She nodded. 'They were all lined up, as if they were on an outing. There was no way I could have stopped.'
I looked at her, sideways, and suddenly we both laughed.
As the sun rose, revealing the carcasses of countless racoons along the country road, Kelly told me about her former racing partner Ryan, who was meeting us at the river. 'He is…well, you'll see for yourself,' she said, 'but he is a great kayaker.' Kelly and Ryan had formed a superb racing team until he nearly died in an accident while working as an electrician. He spent a year in hospital, having new skin grafted over the burns.
The sun was high and the day was hot when we finally paddled out from Franklin Island, a river-landing in Howard County. Ryan, with his head and upper body covered to shield his sensitive skin from the sun, kept himself to himself. But as soon as he got into his element, paddling with confident strokes, he relaxed noticeably, pointing out landmarks and animals to me, a southern twang to his voice.
The Corps of Discovery passed Franklin Island on 7th of June 1804. A fair wind was blowing and the previous day the broken mast of the expedition's great keelboat had been mended. It must have been a relief to hoist the sail again. The men were often soaked to the bone, and several suffered from severe boils, resulting perhaps from living in wet clothes or from eating jerked venison and bear meat riddled with bacteria. Mosquitoes and ticks plagued the camp. As they passed a projecting rock of limestone, Clark noted in his diary that the rock carried 'Several courious paintings and carveing'. They landed at the rock but found the area full of rattlesnakes.
As I paddled my 'Epic Endurance' on that mighty river it was more than the blazing sunshine and 200 years that separated my experience of the Missouri from the experiences of the members of the Corps. The rock paintings have long faded but the river was as beautiful as Kelly had promised. It seemed utterly benign to me. Cottonwoods, sycamores and willows dressed in vines greened the banks and the only sounds were the purling of the river and a vague humming of distant cicadas. Painted turtles, swimming gently, reminded me of stepping stones in a Japanese water garden. Every now and then a snake scribbled a hasty message on the brown surface and, here and there, turbulence indicated treacherous currents. As the river curved around a bend we watched eagles lifting over golden sandstone bluffs.
On that first day we stopped for lunch on a sand island, which reeked of brown smells: of mud and, briefly, something more sinister, as if something had died there. Kelly and Ryan served up a kayaking champion's feast of energy bars and trail mix — and for me a peanut butter and jam sandwich. For a while we chatted about their racing days. Then I asked about the two forts – Fort Osage and Fort Leavenworth – that were established on the river shortly after the Lewis and Clark expedition opened the Missouri to a wave of westward expansion. The forts, near present-day Kansas City, 'protected' the Santa Fe and Oregon trails from the people who had lived along the river and on the prairies for centuries.
Ryan mentioned that he had done some work at Fort Leavenworth once, fitting new electrics in the old stables. There was an awkward silence as he mentioned his former work. For a moment I gazed out over the sand bar. The midday heat made it look like a mirage hovering on the river. Suddenly he started talking with more fervour, telling us about the electric chair in 'the special processing unit', the basement under the disciplinary barracks of the fort. 'I sat in it,' he said. 'As an electrician, I felt I had to.' The chair, he had heard, was never used at Leavenworth, but it had been used once, in a prison in Indiana. Just once. 'So I sat down in the chair and put on the skullcap.' He shook his head slowly and looked up, his eyes dark in the pale face, 'It was made of canvas and it still had stains on it.'
As we paddled away from the sand island, continuing our expedition, a bald eagle turned to look at us from its perch on a snag in the river.
A couple of weeks later, having flown to Portland and driven along the Columbia River, I saw the Pacific Ocean for the first time at the same place where the members of the expedition would have met it in November 1805. 'Ocian in view! O! the joy!' Clark wrote in his journal. They had reached the Pacific but, having almost perished crossing the Bitterroot Mountains earlier that year, they had failed to find a navigable route across the continent.
My own expedition, although thrilling enough, had not been much of an endurance, in comparison, nor particularly epic. But could I write this particular novel without experiencing the landscape in which it is set? I don't think so. My argument, I suppose, is simply that writing fiction, to me, is very much like moving through a landscape. And in any case, like Ryan at Leavenworth, I felt I had to.
Karin Altenberg is a novelist and occasional translator. Her books include Island of Wings and Breaking Light.
31-10-2016