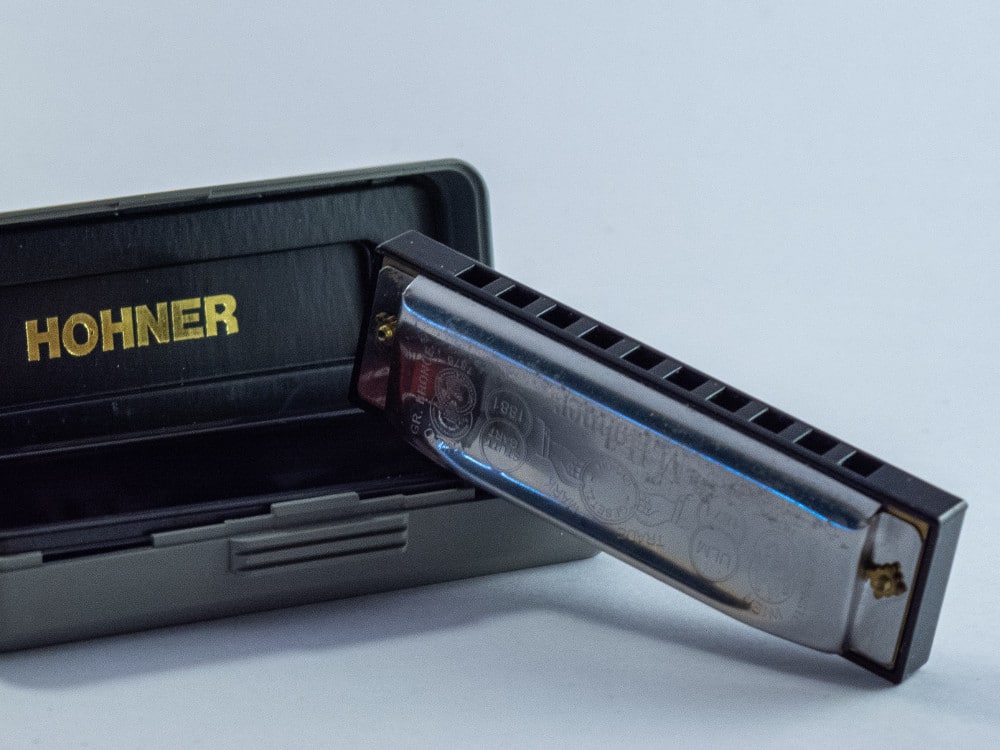 Harps Without Angels
Gerry Cambridge on a musical adventure
Twenty-eight years ago, on an April evening, I was visiting an acquaintance in an Ayrshire cottage. Tossed onto the sofa among the toddler-clutter of her living room was a small black instrument with a red mouthpiece. For some reason, it caught my attention. 'Is that a toy?' I asked. 'No, it's a real instrument. You could busk with it,' she said.
The next day I visited CC Music in Kilmarnock and there, in the window, was a flashier version of the same instrument. Made by Hohner, it was black with a golden mouthpiece. I had a liking for anything small, shiny, intricate and artistic — macrophotography, writing formal stanzas, old fountain pens. The instrument in the window intrigued me. It cost around £15. I bought it.
Sometimes things come along at exactly the right time. Poets talk of big shifts in their writing style when one aspect of their work has been exhaustively explored, and the outdated style must be shed like an old skin. In 1992 I had been writing for years a rarefied, monkish, nature-mystic type verse, influenced by Hopkins, Dickinson, Robert Frost, R. S. Thomas and others. Recently it had started to seem dry and sterile. I'd begun to imitate myself. And I was, for a time, weary of words and ready for a change.
I emerged from the music shop with a little plastic box containing an instrument I could put in my pocket and carry anywhere — a ten-hole, diatonic harmonica. I couldn't read a note of music. A quaver was something that you experienced before receiving an important medical result. Nevertheless, in my springtime caravan in the days that followed, I attempted to produce sound on my new acquisition. My cat, Oonagh, scrutinised me forebearingly as the strangled squeaks and screeches emerged from my face.
Yet, in my obsessional way, I persisted. I decided I needed (musical) help. A few days later I was back at the shop. I had to hear the sounds I was supposed to be making. So I bought a small instruction booklet complete with a cassette tape.
Want to play blues? the booklet asked. (I didn't know what blues were.) Want to imitate your harmonica heroes? (Who were they?) I had spent much of my twenties in macrophotography of wasps' faces and dragonfly wings, and practicing poems in metre and rhyme. I was barely au fait with wider culture. But the booklet advised that, if I wanted to play blues – what harmonica was, apparently, best at – I first had to learn how to 'bend a note'.
This consists of lowering the tone of a given note, sometimes by a whole step — producing a sound the instrument was not supposed to make. Even the manufacturer, Hohner, did not know that ten-hole harmonicas could do this. Around the end of the nineteenth century they reached the southern states of America. The instrument was cheap. African-American musicians found that it could make sounds way beyond simple chords. They bent notes by sucking (draw-bending) air through the bottom six holes, and by blowing (blow-bending) air through the top three holes.
The discovery created a small musical revolution. Note-bending opened up a whole new musical scale. The harmonica became a central instrument, along with guitar, in American blues and roots music. Amplified, the 'harp' or 'Mississippi Saxophone' sounded like much more expensive brass instruments.
My task, then, was to bend my own first note. I obsessively strained, under the wide-eyed stare of my cat at this new aural phenomenon. Finally, after a week or more, by altering the shape inside my mouth as I sucked in air, I managed a note bend: properly done, it's a sound that's funky, soulful and deeply expressive.
So, a century after that first discovery by African-American musicians, on my daily two-mile country walk to the bus stop I would practice simple blues licks. Hardly anyone knew of my secret early apprenticeship. Unlike a guitar, banjo, trumpet, or fiddle, the harmonica is easily concealed in a pocket.
Nonetheless, if my playing was to improve, I needed musicians to jam with. I had to be musically promiscuous. I would play with anyone who would have me. This led to some interesting culture clashes as bucolic nature poet-cum-tyro-blues player tried to jam with everyone. Armed by this time with several harmonicas in different keys, I began frequenting jam sessions around Glasgow. Shy, perfectionist and inevitably embarrassed by the musical manglings my incompetence produced, I tolerated frequent humiliations tranquillised by alcohol. My playing improved as my liver health deteriorated. I was so eager to progress I'd attend the inconveniently distant blues jam in Glasgow's State Bar off Sauchiehall Street on Tuesday nights. Often I'd be put on with the resident band for one penultimate number then have to sprint down Hope Street for the 11.30pm last train from Central station. I'd arrive at my caravan after a four-mile trudge around 1.30am, exhausted, semi-drunk, but having played.
Gradually, obsessively, I improved. You can practice harmonica almost anywhere out of earshot of others — at bus stops, on long walks in the rain. It is a bizarre, 'unofficial' instrument which repays obsession, perfect for the unofficial aspirant musician I was.
My first gig was with a superb bottleneck guitarist, Colin Campbell. I was part-dismayed, part-relieved, to discover that the listening quiet of a pub poetry gathering didn't extend to music. The audience chattered throughout our set. As poet in residence in Hugh MacDiarmid's cottage near Biggar, Lanarkshire in 1997–1999, I had a duty to set up poetry events. To provide the music I teamed up with a new friend, Denham MacDougall, on guitar and vocals. We changed band name according to the town we were performing in: The Biggar Blues Duo; the Lanark Blues Lotharios. It added a ramshackle gaiety to poetry readings. A chance meeting with a young singer-songwriter in Glasgow's famous Scotia Bar led to another musical partnership. Findlay Napier has long since developed his own style, but aged twenty he was keen to play blues, and welcomed the itinerant forty-year-old harmonicist with enthusiasm. As Cambridge & Napier – two universities – we had an eighteen-month association as a blues duo and went so far as to record a demo. A further encounter led to a long collaboration with the singer-songwriter Neil Thomson, who has often put my poems to music; we performed at venues all over Scotland.
These days I sometimes mix harmonica with poetry at readings. Almost thirty years on, I have played in public all over the world — in western Canada with cellist Christine Hanson in temperatures of minus-forty ('frostbite in minutes' warned the government's website); via a chance jam in Grand Central Terminal in New York before the NYPD stopped us; in Granada in Nicaragua as part of my poetry readings there. In 2008 I was involved in a poetry translation project for the Scottish Poetry Library and Literature Across Frontiers with three other poet-musicians and one 'pure' musician: Icelanders Aðalsteinn Ásberg Sigurðsson and Astvaldur Traustason, the (late) Lise Sinclair from Fair Isle, and Gintaras Graujaskas of Lithuania. The collaboration was so successful that we formed a band named, with whimsical irony, The Berserkers, and launched our quadrilingual album Under the Evening Sky in Vilnius and Riga in autumn 2010. 'I am the only one here not a poet,' said Astvaldur, introducing us; 'but I am a poem.'
In December 2008 I was a guest poet at the MLA conference in San Francisco and played the ethereal minor melody of the Scots ballad, 'The Twa Corbies', to accompany Scottish poet-professor Alan Riach's sung rendition. On that same visit the American poet, harmonica (and flute) player Kim Addonizio arranged for she and I to perform with her friend's band in a famous blues venue, The Saloon, which has hosted harmonica greats like James Cotton and Paul Butterfield.
There are poet-musicians out there aplenty. The two arts, after all, involve sound, and the making of pattern. Kim Addonizio is one of the few harmonica-playing poets I know. The Scots-Irish poet and artist Gerald Mangan is another. Don Paterson is a virtuosic jazz guitarist. The Irish poet Cahal Dallat is a multi-instrumentalist. Scotland's Norman MacCaig played fiddle. The gifted Anglo-American Michael Donaghy was a flute and whistle player who played Celtic and traditional jigs, reels and slow airs, reconnecting thus with his Irish background.
I also come from a tradition of Irish music. My maternal grandfather, whom I never knew, was a house fiddler in Maghera, County Derry. Around fifteen years ago, frustrated by playing only blues, I began learning jigs and reels using custom harmonicas I have sometimes re-tuned myself. I still cannot read a note of music: I learn everything by ear, but I know the instrument. Learning a new tune by heart is a satisfying discipline, akin to the technical challenge of drafting and redrafting a poem in formal stanzas.
That chance encounter nearly three decades ago has immeasurably enriched my life. The shop where I bought my first harmonica, CC Music, was, the last time I looked, a boutique. I am often searched at airport security because of the half-dozen harmonicas I invariably carry in my coat pockets. 'We thought these were gun cartridges, sir. You like your mouth organs, eh?' Yet, in all those years, not one security officer, however seemingly suspicious, has ever asked me to play – to prove I am not a fake – even a single note.
Gerry Cambridge has published six books of his own poetry, the most recent of which is The Light Acknowledgers and Other Poems (HappenStance Press, 2019). He has edited the transatlantic poetry journal The Dark Horse for a quarter of a century.
31-08-2020