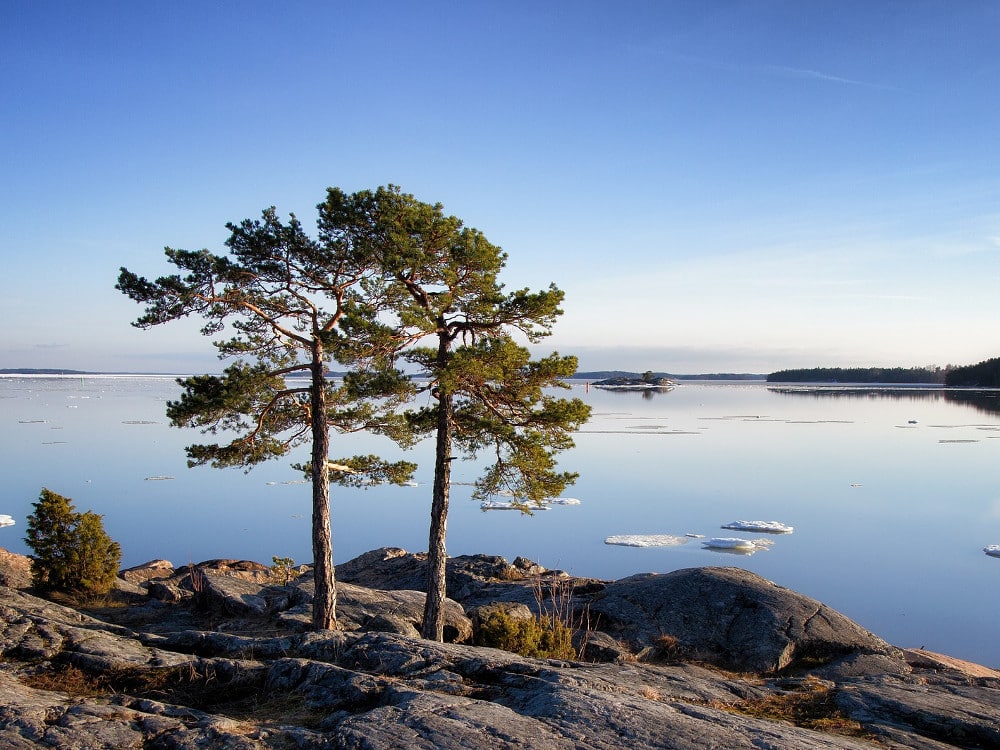 Treasured Islands
A perfect retreat
Every writer dreams of the ideal place to complete their latest book. My own search has led me to many different island locations, from Key West to the Balearics and the Azores. I can't seem to shake off the idea that one day I'll discover the perfect island retreat, where storytelling will grow easy, leaving my imagination free to roam. Many writers experience the same draw, perhaps because islands represent the ultimate moated castle, where we can pull up the drawbridge and escape the stresses of modern life. I always feel relieved to reach the Isles of Scilly in winter, when internet connections are unreliable; suddenly the world seems to spin at a slower pace, and ideas have more time to unfold. That sensation of freedom, which is so important to my work, made me keen to discover whether some of my favourite authors felt the same, during their own island journeys.
Robert Louis Stevenson is famous for writing the most iconic book about the allure of islands. Treasure Island remains, for me, the perfect tale of adventure, brimming with youthful energy. Stevenson discovered the allure of islands as a teenager, when he travelled with his engineer father, whose fame lay in designing lighthouses. He made arduous journeys by train and sea to Orkney and Shetland, where his father would inspect the latest lighthouse. Many of his relatives spent their lives trying to quell the sea's danger, by shining a light on the perils faced by mariners, but the author realised early that his destiny lay in writing. One of Stevenson's poems, from Underwoods, a collection published in 1887, describes his sense of deserting a sacred mission to become a writer:
Say not of me that weakly I declined
The labours of my sires, and fled the sea,
The towers we founded and the lamps we lit,
To play at home with paper like a child.
Stevenson wanted his writing to be far more than naïve storytelling. He longed to convey the thrill of sailing beyond the edge of the known world, to lands so exotic they could barely be described. His dream may have sprung from a desire to escape the illnesses that had dogged him since boyhood. He was a relentless traveller, but island landscapes attracted him more than any other. Stevenson travelled in the Hawaiian islands before spending the last five years of his life in the Eastern Pacific, finally settling on Samoa.
Islands are the leitmotif running through Stevenson's writing, so it seems ironic that Treasure Island wasn't written on some far-flung isle. The story arrived while staying in a Scottish cottage, on holiday with his new wife. He wrote the first fifteen chapters at a breathless pace, only to be caught once more by illness. He wrote parts of Kidnapped and The Strange Case of Dr Jekyll and Mr Hyde while lying in his sickbed too, proving that imaginary landscapes are frequently even more potent than real ones.
George Orwell is another writer whose love of islands is well-documented. He wrote in his war diaries of dreaming about Jura, in the Hebrides. He travelled there soon after peace was declared, and would spend long spells of time on the island in the late 1940s. Orwell borrowed a friend's property, Barnhill, a large but neglected house in the north of Jura. Orwell described it as 'an extremely un-get-atable place,' which struck him as ideal. He had begun work on 1984, but wasn't fully satisfied. He hoped that peace and quiet would help his story develop. Orwell was keen to escape the frantic activity of London in 1946, a city licking its wounds.
Life on Jura offered another type of existence. Barnhill lay over a mile from his nearest neighbour, and twenty-five miles from the island's only shop. He made the round trip once a week to collect groceries on an ancient motorbike which often broke down, yet the inaccessibility of his new home continued to delight him. After falling asleep to the rattle of machine guns, for Orwell Jura's allure lay in its profound quiet. He lived simply, growing his own vegetables, and shooting rabbits and wild birds for meat, until his health failed. Orwell's creativity flared into life as his physical strength waned, forcing him to marshal his energies carefully. He often wrote in bed, like Stevenson, with a long view from his window of the storm-ridden North Atlantic.
It fascinates me that Orwell rarely described his island landscape. He focussed instead on finishing the story that had eluded him in London, producing 1984 in just two years. The island's freedom unleashed his imagination to create a novel of extraordinary ambition and longevity. Maybe it was the wide vista from Barnhill's windows that gave him sufficient space to create a totalitarian regime so convincing that it still scares us today.
Many writers have tried to capture the essence of island life, but one of the most compelling accounts is Tove Jansson's The Summer Book, written in 1972. Jansson evokes the essence of summer – its sunlight and storms – in twenty-two crystalline vignettes. The short, semi-autobiographical novel tells the story of Sophia, a six-year-old girl, and her grandmother who is nearing the end of her life. It follows them through one summer on a tiny unspoiled island in the Gulf of Finland. Sophia's perceptions of the landscape are quick and photographic, and her desire for adventures is relentless, while her grandmother's reactions are muted by age and familiarity. The old woman goes about her routine on the island at a slow pace, but still gleans pleasure from its rocks, wildflowers, and slow tides. The book isn't just an essay on the realities of island life, it also explores the intersections between age and youth, innocence and experience, by giving us two opposing views of the same dazzling landscape.
All three writers used island landscapes to feed their creativity. Tove Jansson drew the beloved Finnish island where she spent every summer for decades with an extraordinary awareness of physical reality. But Stevenson didn't need to exist inside the landscapes he created; he conjured his treasure island purely from imagination. Orwell, by contrast, loved his space and freedom on Jura, yet he invented a world so oppressive the protagonist can hardly breathe.
My own attitude to islands seems to borrow from all three approaches by these classic writers. I benefit hugely from spending long periods on the Isles of Scilly, where my last five novels are set. When I'm back at home in Cambridge I often close my eyes, hunting for remembered details; I can picture the low-slung islands, littered across the Atlantic like stepping-stones. On a good day I can almost taste the saline air, and see children running across Great Par beach on St Martin's, dropping their footprints on pure white sand. I want to capture the islands' essence, so anyone can visualise them, whether or not they know the landscape. Nothing pleases me more than a reader telling me that they intend to visit Scilly, after seeing it for the first time through the lens of my books.
I can't end my discussion of islands without mentioning the sea's dominance. When you dwell on an island it's impossible to ignore the might of the ocean, defining the limit of your territory. The sea is your nearest neighbour; you're forced to listen to each incoming tide and observe every storm that blows in from the north. The ocean is the perfect metaphor for creativity too: powerful but unreliable, beautiful and dangerous. It reflects our ideas back at us, a void full of drowned lives, mesmerising enough to withstand constant reinvention. Perhaps the lure of islands for writers lies beyond the terrain itself. We become the sea's constant witness. It reminds us that, like islands, the marine landscape is as complex and limitless as the human imagination.
Kate Rhodes is an acclaimed crime writer and poet. She has published six psychological crime novels set in London and a further five set on the Isles of Scilly. Her novel Hell Bay (2018) was shortlisted for the Crime Novel of the Year award and Burnt Island (2019) was selected as a Mail on Sunday Novel of the Year.
12-07-2021