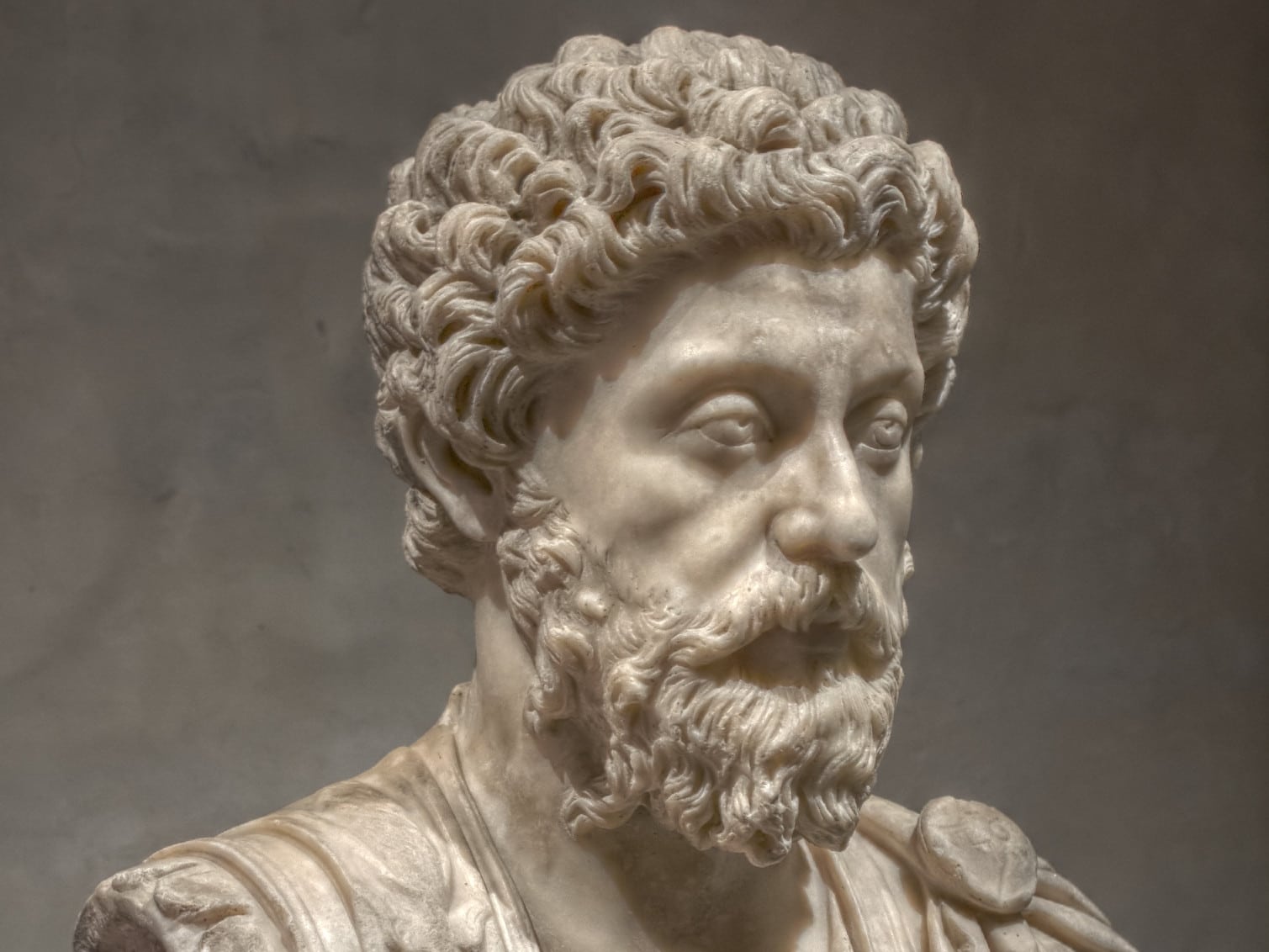 Image credit: Pierre-Selim, bust of Marcus Aurelius
False Endings
Reading and writing through Long Covid
As a hoarder of vinyl records and someone who still regards CDs as cutting-edge technology, I could never be accused of being an early adopter. But at the end of February 2020, I unwittingly, and regrettably, came to inhabit that role in the unfolding of what was then the 'novel Coronavirus'. Road-tripping home from a winter in Seville, there were faint rumblings about something nasty going down in China and Italy but unbeknownst to me, my husband, and indeed, the rest of the world, Covid-19 was already rampaging through Europe. We drove right into its path.
Two days after arriving back in the UK we felt like hell but put it down to some exotic Iberian flu combined with the full-body shock of a midwinter Andalusia-London transition. Ten days later I emerged back into the world, recovered, if a little feeble. But, just like the famed outro of 'Strawberry Fields Forever' that tricks you into thinking it's all over, only to return with a febrile, psychedelic cacophony, it seemed Covid was not done with me yet…
In one of the virus's many peculiar twists, a week after my 'recovery' I was hit, out of the blue, with extreme breathlessness and bone-crushing fatigue. I could barely speak or stand. My husband had to escort me to the loo. At one point, following an attempt to make a five-minute phone call, I found myself on my knees, gasping for breath. There have been times in my life when panting on all fours on the kitchen floor would have signified a positive experience. Reader, this was not one of them.
As the days, then weeks, and then months unfurled amid the uneasy tranquillity of the summer lockdown, it became apparent that this was not so much a Strawberry Fields-style quick novelty reprise, but a whole damn triple concept album, complete with gatefold sleeve, lyric sheet and pull-out poster.
I was in for the long haul. And other long-haulers were coming forth now too, telling their stories. Many were reporting debilitating cognitive issues, unable to read or write or concentrate on anything. I realised I had been lucky. Although I was unable to walk, cycle, swim, run, kayak, ride my motorcycle or play my banjo – all my usual physical pursuits – at least, thank John of God (the patron saint of booksellers, in case you were wondering), I was able to read. And read, I did — with the reckless abandonment of a desperado with nothing to lose except the first instalment of Rishi Sunak's Self-Employed Income Support Scheme.
At first, poor deluded fool that I was, I imagined foreign travel would feature in my near future. Despite now being at the white-hot centre of a global pandemic, I couldn't quite bring myself to abandon my travel writer's mind-set. The fantasy books rolled in: Cyprus, Sicily, a hiking map of Tenerife (who was I kidding? I couldn't even walk to the corner shop). Launching into Old Glory, Jonathan Raban's thrilling boat trip down the Mississippi just made me feel even more exhausted. I reluctantly accepted defeat.
Instead, I decided to focus my attentions closer to home. From the garden lounger, I surveyed my domain and hatched different kinds of grand plans. A vegetable patch! A raised bed! A composting toilet! Click, click, click. The corresponding publications landed 24 hours later. No-Dig Gardening (appealing, considering my current state), The Humanure Handbook (subtitle: Shit in a Nutshell). I learned lots about thermophilic bacteria and discovered you can compost a dead dog, but I was still being too ambitious; even deadheading the petunias was proving taxing. And although my husband was being most accommodating, I feared adding sawdust and shovels to the mix might be too much to ask. Our Tom and Barbara phase would just have to wait.
Thwarted, I returned to my lifelong comfort reads, High Fidelity and The Go-Between, now on their sixth or seventh time round, and still guaranteed to provide a warm fuzzy feeling. But when I ventured into new territory, I found I had become overly picky about my fiction. Like a fussy eater who recoils at strong flavours, I was suddenly squeamish about depictions of illness, suffering or any human misery. Realising that this filter disqualified pretty much every great novel ever written, I thought back to books that had got me through difficult times in the past and recalled the interminable border crossing between El Salvador and Honduras that had been made bearable thanks to a battered copy of Jackie Collins' Hollywood Wives. In haste, I ordered the sequel (Hollywood Husbands, natch) hoping for some escapist relief, but Long Covid is a different beast to a Central American frontier, and it seems, cannot be conquered by 300 pages of sex and shoulder pads.
The doctors said I would just have to sit it out, be stoical about it… Aha! That was what I needed — some philosophical assistance. And who better to give advice on coping with a long, arduous situation than the Stoics themselves. Click, click. Marcus Aurelius' Meditations arrived the following day…
The former Roman Emperor's thoughts and reflections on life have provided guidance to philosophers, leaders and statesmen for centuries. Feeling decidedly un-statesmanlike as I gasped for breath in my never-changing wardrobe of Sainsburys leisurewear, I wondered if maybe his ideas would be too lofty for a lowly mortal like me. But no, each page offered startlingly relevant advice to my situation. Written mostly in short, pithy aphorisms, Marcus would have been huge on Twitter. He knew how to get straight to the point.
'Don't be overheard complaining about life at court. Not even to yourself.'
Complaining was a definite no-no.
'Everything that happens is either endurable or not. If it's endurable, then endure it. Stop complaining. If it's unendurable…then stop complaining.'
OK, well that told me. But his thoughts on pain and illness proved more insightful, and I considered them as I awoke each morning, wondering exactly how long, Long Covid was.
'Either pain affects the body (which is the body's problem) or it affects the soul. But the soul can choose not to be affected[…]'.
My soul wasn't being quite as obedient as Marcus would have liked. Although I appreciated and admired the Stoic ethos, it did feel a bit like I'd hired a Centurion life coach — 'Contemplate like a Roman!' I decided to seek a gentler approach and turned to a classic guide for difficult times, When Things Fall Apart by the renowned Buddhist teacher, Pema Chödrön.
Imagine my shock, when on page 54 Pema told me to abandon hope. She even suggested I write it on my fridge door. But hope is all I've got! I shouted back at the page (or more likely stuttered feebly). With no answers forthcoming from the medics, I spent my days simply hoping that I would recover soon. But no, according to Pema and the Buddhist philosophy, hope is as useless as fear. They are two sides of the same coin, and both have the effect of preventing us from being here, right now, in the present moment. So, I must abandon them both. I was so astounded by this idea that I re-read the section over and over until suddenly, like the sun breaking through the clouds, it made perfect sense.
A strange thing happened after that. I got back to writing a book I'd been working on over the last couple of years. I have relished and loved writing every one of my books, but the process has never been without some pain. Of course, I am not the only author for whom the joy of writing is laced with self-doubt, procrastination, and the 3am 'it's a pile of crap' cold sweat. And while these sensations are outweighed by the elation of when it's all going swimmingly, I had always accepted the anguish as a non-negotiable part of the package.
This time it was different. The switches marked Hope and Fear had been deactivated and instead there was an empty space which asked nothing of me, and equally, offered nothing. In this space I found I was able to write with abandon — carefree, but not careless. The world I created on the page became not a battlefield, but a place of respite, and maybe, most significantly, somewhere I was in control of the outcome.
Of course, Marcus Aurelius knew this was going to happen…
'Chronic pain is always endurable: the intelligence maintains serenity by cutting itself off from the body, the mind remains undiminished.'
One year on, I've finished the first draft. Long Covid's conclusion remains less clear. But I'm taking heed from both the Buddhists and the Stoics; I'm alive, right here, right now, and I'm not complaining. Well, not too much…
Lois Pryce is the author of three books about her solo motorcycle journeys throughout the world. She has written for the Guardian, Telegraph, New York Times, CNN and the BBC. Her latest book, Revolutionary Ride, about her travels in Iran was shortlisted for an Edward Stanford Travel Writing Award.
04-10-2021