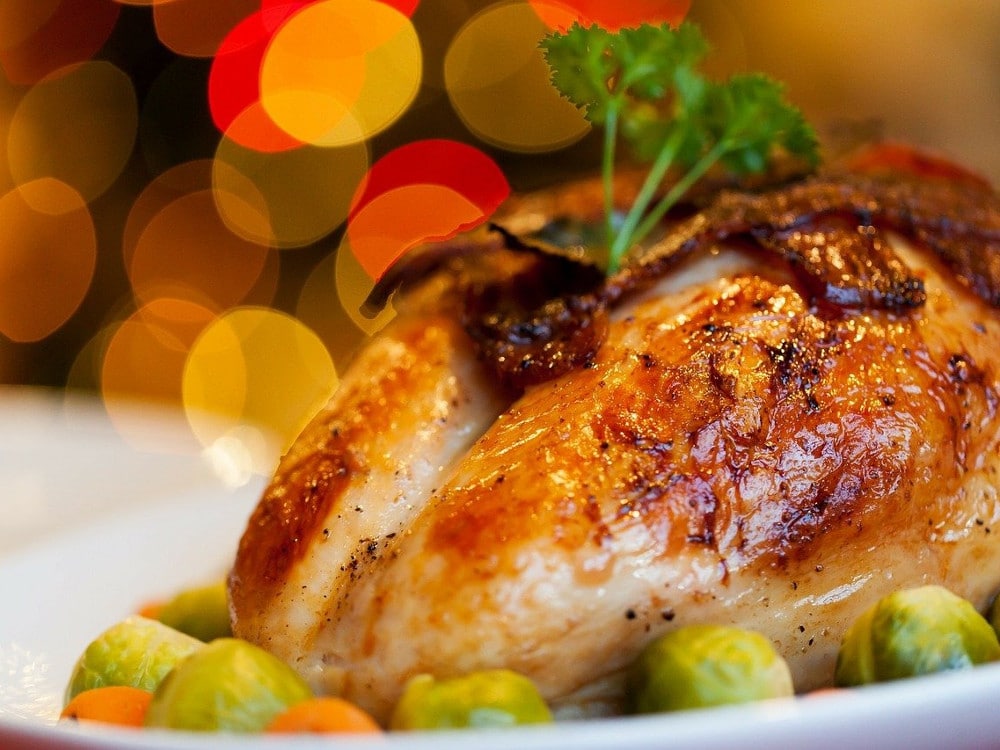 The Drama Of Christmas Dinner
From plate to page
I wholeheartedly and without shame love Christmas. The planning and prepping, buying presents, decorating the house, writing cards, wearing sequinned jumpers, drinking mulled wine. I love the food and the special traditions and recipes that are passed down through generations, made each year with love and joy.
I am a Christmas baby and when I was born nurses put tinsel round my cot and my dad ate both his and my mum's hospital Christmas dinner. Of course, I have no memories of those particular festivities, but the story has been retold many times over the years. When I was growing up Christmas Day would end at teatime and my birthday cake would appear, tiny candles lit. We'd eat the cake, surrounded by the debris of unwrapped presents and all too full of Christmas lunch.
I was born and raised in England and all my Christmas food traditions come from my mother. Recipes scrawled on bits of paper, kept and treasured for years. I add notes to old cookery books, little tips learnt over the decades. My plate of Christmas dinner now is almost identical to a plate of Christmas food from my childhood. The colours, tastes and smells of my kitchen are all the same as my mother's. The braised red cabbage, roast potatoes and parsnips, peas and carrots. A huge turkey with two types of stuffing, gravy with a stock made slowly the day before, home-made bread sauce and of course the sprouts, doused in a little sherry right before serving. It's always the same dishes, year in, year out.
I have written many scripts for radio, theatre and television and sometimes think that the family Christmas meal is in many ways like its own theatrical performance, from the early planning and preparation right up to the main event of eating together. I was curious to know if any contemporary playwrights had used the drama of Christmas food preparations as a backdrop to their own plays and found plenty of examples.
Lucky Dog by Leo Butler, which premiered at the Royal Court in 2004, is set during a Christmas dinner between a couple who discuss the good times they had before their son left home, creating a void in their lives, while The Last Noël by Chris Bush, produced by Attic Theatre Company in 2019, encourages audience participation by giving them vegetables to peel and canapés to prepare while they sit and watch the play.
In her 2020 Christmas Day play for BBC Radio 4 Christmas by the Lake, the radio dramatist and novelist Rachel Joyce begins the story with her main character Mary reciting endless Christmas shopping lists, telling herself repeatedly 'Mary, do not forget the sprouts.' As the drama unfolds, we learn that last year (the last Christmas her husband was alive), she did forget the sprouts and this year she is determined that Christmas day will be perfect. Joyce uses the food traditions and pressures of perfection that surround Christmas to great effect. Clearly this isn't going to be a perfect traditional Christmas as her husband has gone and Mary is still grieving, her daughter is planning to go away for the holidays and in any case, Mary should forget the sprouts because no one likes them. Mary must make new Christmas traditions, and so she does.
Despite loving all things Christmas I've never set an entire play at Christmas time, or around a Christmas meal, party or family gathering. In the first episode of my adaptation of Louisa May Alcott's Little Women for BBC Radio 4 Christmas is approaching and the March sisters are particularly gloomy about being poor and not having any presents. I took delight in pulling out the details from Alcott's book as the sisters lament the prospect of a frugal Christmas but in the end decide that having each other is what matters, and besides there are people far worse off than they, evident when they take their special Christmas breakfast to an impoverished family living nearby. In my adaptation of George Eliot's The Mill on the Floss there are refences to Christmas peppered throughout, but it's certainly not a focal point in any one episode. In an early scene Christmas is condensed into a voice over: 'Christmas was cheery, but not for Mr Tulliver'. The cheery atmosphere was created in studio by the actors giggling and playing beneath Mr Tulliver's grumpy address to his brother-in-law.
In my original work for radio and theatre I tend to use Christmas as a structural device, indicating to the audience what time of year the play is set in. If the action takes place in the summer, Christmas might be referred to, but it's way off yet, out of mind. If Christmas is approaching or has just passed, characters might briefly mention where they have spent, or will spend, Christmas, giving the audience another layer of understanding and insight about their choices — will they be with friends, family or spending it alone? It's only in my stage play Whiteboard, which was developed at the Marlowe Theatre in 2019, that I explicitly decided to set a scene on Christmas Day. Towards the end of the play, when the main character Bec is living alone and estranged from her family following a breakdown, Christmas is used as an emotional device to demonstrate Bec's complete lack of engagement with the world around her. The stage setting is 'A bedsit with an undecorated Christmas tree.' This visual tells the audience it's Christmas, but the owner of the tree doesn't really care. During the script development I worked with the director and dramaturg James Baldwin, and we decided that Seb (Bec's partner) had probably bought the tree (and a bag of decorations that remain unopened) to try and get Bec in the festive mood, but this gesture has failed. Seb confirms it's Christmas when he invites her to spend the day at his sisters, saying 'everyone's going to be there' (including their daughter, Ruby, whom Bec hasn't seen for months).
There's no food preparation in this scene but they do talk about food; Seb wants to make Bec breakfast and offers up bacon and eggs (suggesting this was their Christmas tradition), but Bec's already had breakfast; a bowl of Coco Pops. Simple and easy but also a food that links her with her own child that she is in no emotional state to see, to add another layer of heartbreak to the scene. I wanted to explore the fragility of this crumbling relationship and by setting this scene on Christmas Day I could use all the emotional baggage that comes with it, for although I love the festive season, I absolutely acknowledge that some people don't. The obsession with perfection during this period of high emotions was the most perfect backdrop to explore the fractured minds and imploding relationship at this point in the play.
While writing this piece I've talked to a lot of friends about their own Christmas food traditions and recipes passed down over the years. One friend shared her mother's recipe for marzipan holly leaves, which are left out in little bowls during the festivities. Another friend, who grew up in Poland, told me about the Christmas Eve meal, Wigilia, that consists of twelve dishes, including a carp dish and a poppy seed yeast cake called makowiec. I love the idea of a play divided into twelve scenes inspired by twelve dishes. When next Christmas is well and truly over, the last of the turkey and stuffing used up, the leftover Christmas pudding fried up in butter and that final slice of birthday cake eaten, I might just open my laptop and start writing it.
Rhiannon Tise writes for theatre, radio and television. Her award winning ten-part adaptation of George Eliot's The Mill on the Floss is available via the BBC Sounds App.
13-12-2021